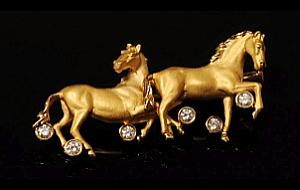 Where is the best place to sell gold jewelry and other gold merchandise? Sell gold jewelry for the cash you deserve with Lakeshore Jewelry Buyers. Lakeshore & New Orleans residents sell gold jewelry to us because we are both an expert estate jeweler and a luxury pawnbroker who offers cash loans on gold.
Our Lakeshore gold buyers, we are well-known for paying the highest premium cash prices for designer gold jewelry from leading brands like Tiffany & Co., Cartier, and Buccellati. Thanks to our 2nd generation estate jewelers, Lakeshore residents receive the extra cash they deserve when selling gold jewelry set with diamonds and other precious gemstones.
When you sell gold jewelry with Lakeshore Gold Buyer, you can be assured that you are getting more cash for gold. Our professional estate jewelry buyers cut out the middle-man that Lakeshore jewelry stores often sell their second-hand jewelry to. Go direct to the source and sell gold jewelry to Lakeshore Jewelry Buyers, a Lakeshore service division of Diamond Estate Jewelry Buyers, America's premier gold jewelry buyer.
Get a Cash Offer Now
Lake Shore Jewelry Buyers also is the #1 diamond buyer and watch buyer serving New Orleans. Sell us your loose diamonds, diamond jewelry, and luxury timepieces for a great cash offer.